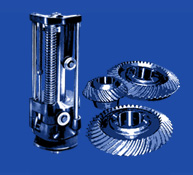 Did you know?
Many of the above types of machinery have been in reliable, productive service with customers for 20, 30 or even 40 years!
The secret to reliable, trouble free, high quality production is regular maintenance and service, using genuine spare parts that are specifically designed for the machinery in question.
All our parts are manufactured to the original drawings and specifications and made of the correct grade of material to ensure robust and efficient operation.
Give your production machinery a cost-effective performance boost - contact us today for more details.
Spare parts and service are also provided for many other types of equipment. If you do not see the brand you are looking for above, please contact us for further details.
News
August 2009: Cable Machinery Spares is now a division of Goodwin Machinery Ltd.