Steel Rolling Mill Gearbox Supply
CMS has recently supplied a set of gearboxes for a steel rolling mill upgrade through our Shackleton Engineering Gearbox Division.
The key objective for the project was to upgrade the gearboxes in the steel rolling mill with the minimum of downtime and disruption to production.
The drive system for the steel rolling mill comprised:
5.5 tonne gearbox for the main coiler rated at 17kW
2.5 tonne gearbox for the slitter rated at 55kW
2.5 tonne gearbox for the shear drive rated at 55kW
0.4 tonne gearbox for the die set drive rated at 62kW
0.2 tonne gearbox for the leveller rated at 200 kW
The gearboxes were all designed to the high quality Case Hardened and Ground gear standard (DIN 3990-5). The external dimensions were specified as direct replacements for existing gearboxes. This was to minimise replacement time and eliminate any foundation work in a production environment.
The gearboxes were manufactured, assembled and fully tested in house before customer inspection and shipping.
Since installation, the customer has experienced increased productivity and reliability from this production line.
New and Replacement Gearboxes
Shackleton gearboxes are installed worldwide and have an enviable reputation for reliability and long service in a broad range of industrial applications.
Shackleton gearboxes are extensively used in a wide range of industries, including:
Rolling mills for steel, aluminium and copper
Wire and cable industry – ferrous and non-ferrous
Oilfield industry
Power stations
www.shackletonengineering.co.uk, Shackleton Engineering's own dedicated web site, also contains extensive details about our range of Gearboxes and Drives.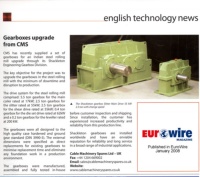 See this article as it appeared in EuroWire.