Cable Machinery Spares Ltd moves to new premises
Cable Machinery Spares and Beaumont Machinery have moved to new premises, with effect from 18th September 2006. The new-build industrial unit has been specially configured to suit CMS's growing business and includes the following facilities:
New engineering facility, including dedicated design, engineering and assembly areas.
Dedicated braider carrier repair and refurbishment section.
Clean assembly areas.
The new, energy efficient premises are located in Bolton, in the North West, conveniently located for major transport links. Managing Director Chris Livesey commented:
"We are very pleased to move to these new, process efficient premises. The move was partly driven by the success of our new web sites – the launch of www.cablemachineryspares.co.uk a year ago, together with associated web sites for our various brands, has led to a greatly increased worldwide recognition of the products and services offered by CMS. In turn this has led to increased enquiries and orders, necessitating a new, process efficient factory layout."
The new address details are:
Cable Machinery Spares Ltd
Unit 13 Lodge Bank
Crown Lane
Horwich
Bolton
BL6 5HY
UK
Tel: 00 44 1204 669001
Fax: 00 44 1204 669002
Email: sales@cablemachineryspares.co.uk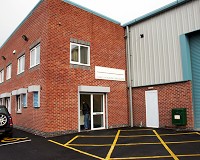 Keep up to date with the latest news from CMS.